'My Reports' is your workspace within the Peer Analysis application where you can store your preferred 'go to' reports. These report selections are private and are created and tailored by you.
To create your My Reports folder, first access the Peer Analysis application, go to a report you would like to include in this list of your favourites, and toggle on the Star icon in the top right-hand side of the report page.

This will automatically create your My Reports folder and add this report as a selected favourite.
Once you have created your My Reports folder it will automatically appear within the Folders list and will be the default Folder option when you log into Peer Analysis.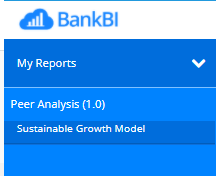 If you wish to remove a report from your my Reports selection, then click again on the star icon and the report will be removed from your My Reports folder.
This development offers you the most efficient way to extract and present a specific subset of reporting analytics from the offered by Peer Analysis, and speed to the information most important to you on a daily basis.