Basic description
Financial Performance Reports provide a financial summary for a credit union, including assets, liabilities & capital, and income & expense. Peer average ratios and aggregate FPRs for the most recent cycle are available online within six to eight weeks following the cycle date. Some of these ratios are reviewed and updated every quarter.
The information in the Performance Ratio report are based on the use of the most current ratio tables from the National Credit Union Administration.
There are additional ratios and calculations that have been added into Peer Analysis over and above the standard National Credit Union Administration calculations.
Index
Where 'applicable cycle' and 'prior year' figures appear on the same line in a ratio, they are referenced as follows:
AC = APPLICABLE CYCLE
PYE = PREVIOUS YEAR END
Where there is no reference to AC or PYE on a line in a ratio, it is assumed that; that figure relates to the applicable cycle (AC).
Options
You can view the ratios:-
Ratios are listed in the Zendesk articles
Grouped by Relevant Report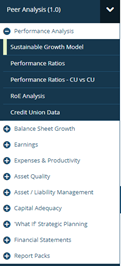 Grouped in sequence of the calculations within the report
Description and National Credit Union Code e.g.